10+ Best Live Music Venues in St. Augustine
The St. Augustine area is bursting with music, with a diverse range of acts from all genres performing every day and night. From an acoustic duo in the upstairs listening room, to a nationally touring rock band, to a free jazz concert at sunset on The Plaza, to a calypso band on a summer evening at the pier, to buskers filling the air downtown, there is something for everyone at an eclectic mix of venues. Whether you prefer blues, country, reggae, salsa, rap, or electronica, you'll find it here in the Old City. Here are some of our favorites…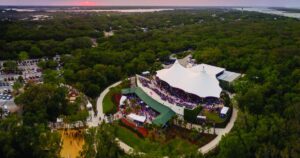 The St. Augustine Amphitheater (aka The Amp) – This incredible outdoor concert spot has become a destination in itself. Set amongst a hammock of trees just off the beach, in the shadows of the lighthouse, the 4,100 person capacity venue has put our little town on the musical map. In fact, it was recently ranked the #2 concert venue in the United States and #3 in the world! This has kept major artists flocking here in droves. Bob Dylan, Willie Nelson, Santana, Brad Paisley, Wu-Tang Clan and Widespread Panic are just a few names that have graced the stage lately. There is also a smaller stage on the property called The Backyard, which hosts lesser known acts (often for free) in addition to weekly farmer's and artisan markets. Many people plan their St. Augustine vacations around shows here, so keep your eye on their schedule and come see what all the noise is about.
Colonial Oak Music Park – Tucked away behind coquina walls, amidst the hustle and bustle of St. George Street, sits this unique musical space featuring a variety of regional and local acts. The stage is set underneath – as the name suggests – a giant colonial era oak tree. Grab a cold one, then a seat at one of the several picnic tables shaded by the massive tree's branches that are dripping with Spanish moss, lanterns and twinkling lights. Or, grab your dance partner and cut a rug up front. Either way, you are sure to have a good time at this one-of-a-kind spot. Stay hydrated and energized at one of the many food & drink options provided by the Colonial Quarter.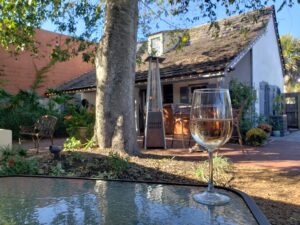 Casa de Vino 57 – Nestled in a secluded courtyard in the heart of downtown St Augustine, this venue offers live music every weekend and during their monthly Full Moon Wine Tasting and Wine Walk events. Local favorite  Owner Patti welcomes guests to her oasis, where they can enjoy a bottle of wine, cheese and charcuterie, and some music in the historic Joaneda House, which was constructed in 1807 and has been home to a variety of different establishments over its more than 250 year history, including the Treasury Street Inn, a gift shop, and a florist shop. Check the calendar to catch a performance by Jolie. Jolie is a popular independent singer-songwriter based in Saint Augustine, Florida who is known for her powerful vocals and intimate performances. She has been voted Saint Augustine's "Best Female Vocalist" and "Best Musician" in 2019 and 2020, and she is often compared to artists like Sarah Mclachlan, Sara Bareilles, and Birdy.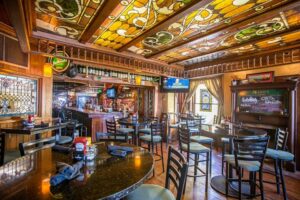 Meehan's Irish Pub & Seafood House – Meehan's Irish Pub & Seafood House is located on the waterfront in downtown Saint Augustine, FL, and offers live music every Thursday through Sunday both inside and in the backyard. With three unique restaurants in one location, there's something for everyone at Meehan's. The traditional Irish Pub is a comfortable spot where locals and visitors can enjoy a pint, swap a story, and stay for dinner. The menu features traditional Irish dishes like corned beef and cabbage, fish and chips, and shepherd's pie, as well as a variety of burgers and sandwiches and a raw seafood bar with local seafood favorites. Johnny's Oyster Bar upstairs has a full bar and a fabulous deck overlooking the Matanzas River, and the Island Cafe & Tropical Bar in the backyard offers a Caribbean-style menu and atmosphere. The pints are cold and the welcome is always warm at Meehan's Irish Pub & Seafood House, which sits on the site where construction storage was originally located during the building of the Castillo de San Marcos, just 150 feet north of the restaurant.
Tradewinds Tropical Lounge – Tradewinds Tropical Lounge is dedicated to having the best live entertainment in North Florida, with a lineup that includes a mix of rock, blues, and country. It is the oldest bar and venue in St. Augustine, and the party starts with acoustic acts at 1 PM, leading into full bands later in the evening. The bar serves strong and delicious drinks to keep the party going all night. It is a must-visit venue for anyone in the area, and everyone should close out a night at Tradewinds at least once!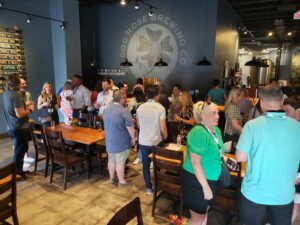 Dog Rose Brewing Co. – Dog Rose Brewing Co. opened in Oct. of 2017 in the historic neighborhood of Lincolnville, a short distance from the center of the historic district of St. Augustine. The brewery is known for its handcrafted ales and lagers, which are brewed with style and tradition in mind. The taproom is spacious and open, yet cozy and inviting, and the brewery itself is easily accessible. Live music is offered every weekend, and the local favorite Dewey Via Band has a Sunday residency that attracts crowds week after week. In addition to music, visitors can also enjoy a game of shuffleboard on one of the 16′ tables or a game of darts on the professional dart boards. With 5,000 SF of space, there is plenty of room to spread out and enjoy the company of friends.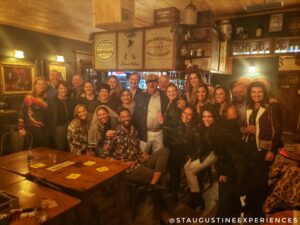 Barley Republic – Barley Republic is a popular Irish Gastro Pub and Cocktail Bar located in the heart of Historic Downtown St. Augustine. The pub serves a range of traditional burgers and sandwiches, as well as Irish favorites like Shepherd's Pie and Fish & Chips. In addition to a wide selection of whiskey and craft cocktails, the pub also has a late night kitchen for those looking for a snack after hours. But perhaps the biggest draw of Barley Republic is its live music, which takes place every Thursday through Saturday in the upstairs Green Room from 9 PM to Midnight. The Green Room is a cozy and intimate venue that is perfect for enjoying live music, and the pub frequently hosts local and touring acts that perform a variety of genres, including rock, blues, and folk.
Bin 39 Wine Bar – Bin 39 Wine Bar is a boutique wine bar located in the lobby of the St. George Inn, and it is the perfect place to begin or end your exploration of the historic district. The wine bar is open daily and spills out onto a brick courtyard featuring an elegant fountain, live music, and cafe tables, where you can sip and relax in the sunshine or shade. The extensive wine list is carefully selected and ranges from well-known favorites to unique, small-production wines, with numerous options to accommodate diverse tastes and all price points. Bin 39 is proud to offer the best high-end selection of wines by the glass in North Florida, and frequent tasting events offer a great way to learn about and enjoy new wines. Open daily from noon to 8 p.m., Bin 39 is a great place to enjoy live music and a wide selection of fine wines.
No Name Bar – The Bar with No Name is a popular dive bar in historic downtown St. Augustine that is known for its amazing views encompassing the Castillo de San Marcos, the bay, and people watching. Visitors and locals frequent the bar for its great views and live music six nights a week (Tuesday-Sunday), which keeps the party going until 1:30 AM. In addition to its weekly drink deals and great music, the Bar with No Name is also a great spot to relax and make some new drinking buddies.
Sarbez! – Located just across the Bridge of Lions from downtown, Sarbez! is one part music venue, one part craft beer/grilled cheese emporium, one part vintage arcade – and all parts awesome. The funky, retro vibes (think skee-ball and 80's decor) are matched by the legendary late night dance parties that are known to go down here. This is the place for up-and-coming musicians from around the region to let it all hang out. Their craft beer selection is incredible and goes great with one of the delicious, gourmet grilled cheeses they serve until close. Oh, and did we mention the life-sized Pac-Man game?
Prohibition Kitchen – A vintage speakeasy vibe sets the stage for the wide range of live music occurring nightly at this hip downtown gastropub. PK (as the locals call it) attracts some of the area's best musicians, as well as established acts from across the country, from blues to bluegrass and everything in between. Grab a table and enjoy dinner with one band early in the evening, then hit the dance floor as a different band takes the stage for late night jams. Don't miss one of many amazing cocktails at this downtown nightlife hub.
The Cellar Upstairs Bar & Restaurant – San Sebastian Winery's The Cellar Upstairs Bar and Restaurant is a top-class venue for live music, including jazz, R&B, and blues. In addition to a wide selection of San Sebastian wines, the bar also offers imported and domestic beers, as well as a variety of light appetizers. You can relax on the open-air deck, taking in the spectacular views while enjoying the live music. There is no cover charge for the entertainment.
The Milltop Tavern & Listening Room – This storied downtown watering hole has been St. Augustine's go-to spot for kicking back and listening to tunes for over 40 years. Just inside the city gates, on the site of an old grist mill, The Milltop brings live music to both tourists and locals alike every day and night in a historical setting. Enjoy fantastic pub grub and a great selection of brews while singing along to your favorites in this rustic upstairs space. Pro tip: the rear balcony is a prime spot for people watching on St. George Street below.