Where to drink cocktails in St. Augustine
Sometimes you just want something stronger than a beer, and in St. Augustine you won't have to go very far. St. Augustine has inventive cocktail bars and locally distilled spirits, this town knows a thing or two when it comes to hard liquor. Here are a few of our favorite places where you can find a great cocktail in St. Augustine:
Forgotten Tonic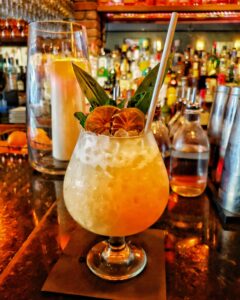 Forgotten Tonic(opens in a new tab) does not have a cocktail menu….they have a book of cocktails! Each spirit has its own dedicated page of libations. Owner John Moore and his team are magicians behind the bar and you will find yourself coming back over and over to explore more of the expansive cocktail program. Try the Sherry Painkiller, Lion's Tail, or I Can't Even to get your evening (or day) started! While imbibing, don't miss the Fried Green Tomatoes with Citrus Slaw or Cajun Egg Rolls. In just over a year Forgotten Tonic has developed such a following that they already purchased and are are expanding into the neighboring restaurant to double their size! Forgotten Tonic is also a featured restaurant on our Perfect Pairing: Wine, Cocktail & Food Experience.
Boat Drinks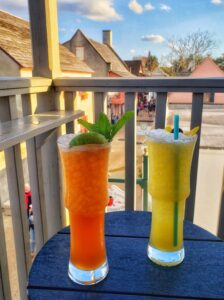 Boat Drinks(opens in a new tab) is the newest addition to historic St. George Street, in St. Augustine, FL. They offer a tropical retreat at their historic two story building in the heart of the historic district. They take the "on a boat" approach to cocktails by pouring fresh juices and house made syrups in all of their cocktails. The cocktails are tropical, balanced and an escape in a glass. Since one can't survive on cocktails alone, the food menu focuses on fresh thoughtfully sourced seafood prepared using recipes developed during their travels throughout the Caribbean, Florida and the Gulf Coast. They have the best raw bar in town!  Look forward to embarking on a tropical cocktail journey…come sail away!
The Ice Plant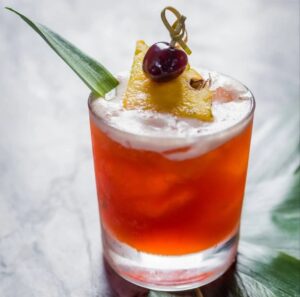 Inside this century-old factory that used to produce – you guessed it – ice, is one of the most talked about restaurants(opens in a new tab) in the state. It shares the historic space with the St. Augustine Distillery (and their FREE tours and tastings), serving hand crafted cocktails made from their fine spirits. Inspired by the historical period of the early 20th century, they reintroduce their guests to a time where the experience of having a cocktail and a bite to eat was both healthful and enjoyable. They're focused on the art and craft of mixing exceptional local ingredients in precise measurements to create perfect and unique flavor profiles, using items such as fresh house-pressed juices and a wide assortment of bitters and specially developed syrups, which result in stunning cocktails. Attention is paid to the smallest of details with three different kinds of ice, including a nod to the building's original use as an ice plant, with a 300lb block of ice and custom cubes. Don't miss the Smoked Local Fish Dip!
The Floridian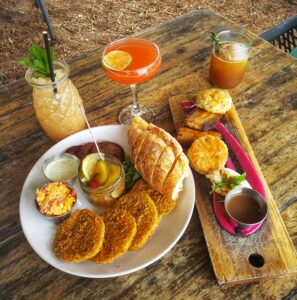 More known for their food menu,
The Floridian

(opens in a new tab)
has a cocktail program that matches their incredible kitchen! They do a fantastic job of having a different base spirit in all their offerings. The menu will change continuously with the seasons, and will reflect their sincere appreciation and dedication to keeping it fresh–literally and figuratively. We're in the mood for a Swamp Pony right now! Make sure to get the Biscuit & Belly to keep you walking straight after 2 or 3 of these drinks!
Mojo Old City BBQ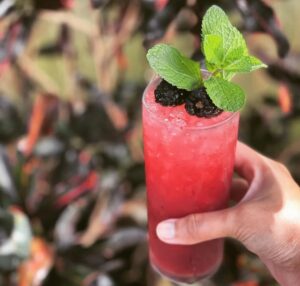 As well as our favorite smoked meats, MOJO Old City(opens in a new tab) has one of Florida's largest curated whiskey collections. Their daily happy hour gets you signature cocktails for only $7!!! A super friendly staff and expansive indoor/outdoor dining options makes every visit to Mojo Old City a delight. Even out all the whiskey and cocktails with some Burnt Ends and the Smoked Turkey sandwich! Better yet, come check them out on our Perfect Pairing: Wine, Cocktail & Food Experience!
River & Fort
River & Fort Restaurant and Rooftop Lounge, the newest addition to the city's dining and drinking scene, is located right in the heart of downtown St. Augustine, directly across from the Castillo de San Marcos. They offer a southern continental inspired menu with local seafood, steaks, wine, and fantastic craft cocktails. The second and third floor rooftops are a perfect place to get those perfect Instagram shots and take in St. Augustine's historic sights, the gorgeous Bayfront and, on a clear day, see all the way to the lighthouse! The rooftop has a special menu or artisan pizzas, broiled oysters, and wood-charred wings that pair perfectly with your tasty cocktails.
Odd Birds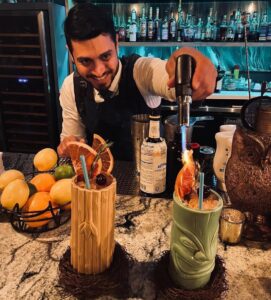 Just a couple of blocks East of the Bridge of Lions, two business entrepreneurs joined forces and created a new bar concept which showcases the art of craft cocktails and the talent and diversity brought by the professionals in the area. Odd Birds brought a variety of cuisine of eclectic fare to accompany these special spirits. With an eclectic atmosphere Odd Birds provides a chill and relaxing backdrop to the art of making fresh and small batch cocktails. Bringing something new and refreshing to the scene in our quaint town of St. Augustine. Remember, the only rule is oddness!