Where to drink coffee in St. Augustine
We know some people just can't start their day (we're talking to you Australians!) without a finely brewed cup. Whether you prefer an espresso, cappuccino, flat white or just a simple pour over, here are few of our favorites where you can get your fix: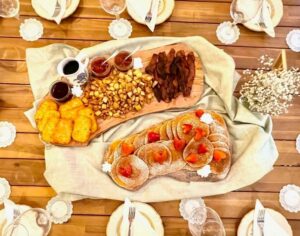 Ancient City Brunch Bar

(opens in a new tab)
– ACBB features incredible lattes, espresso, and americanos from their very own coffee line, and carries a beautiful selection of teas sourced locally. Originally thought up as a high school project by twin sisters Emily and Sophia, this family run cafe has become a local favorite with their Instagram favorite "Brunchcuterie" boards that can be customized for varying dietary needs. Make sure to start your morning with their quiches, waffles or Breakfast Burger! One of our most popular food stops, come check out their sweeter side on our
Not Just A Chocolate Tour
.
The Kookaburra

(opens in a new tab)
 – Opened in 2012, and now with 5 locations around St. Augustine, this Aussie-American espresso bar and pie shop based prides themselves on serving masterfully crafted products that are ethically sourced and expertly roasted. They blend their love of coffee with a passion for serving the community, all with a smile. They even did a collaboration with Old Coast Ales to create the Kookaburra Brown Ale. Come and see what the buzz is about!
Relampago Coffee Lab

(opens in a new tab)
 – A beautiful shop where you can easily spend a few hours on Spanish Street. Get some work done or make some new friends while enjoying a variety of coffees and teas. Relampago is constantly experimenting with new coffees and roast profiles to share with fellow coffee lovers. Because harvest schedules are pretty staggered across the globe, new, exciting, current-crop offerings show up at different times of the year-which means there's always something great coming in.
Juniper Market

(opens in a new tab)
 – Make this your go-to spot for a cup in in Uptown St. Augustine. As well as a large selection of unique brews, Juniper Market offers fresh-baked goods, grab n' go items such as soups, salads and sandwiches as well as tea in a vibrant setting that invites you to experience the local-color of St. Augustine. Come and browse through the many local goods they carry in-house. From home decor to eco-friendly products as well as an assortment of wines, honey, and coffee, there's something for everyone at Juniper Market.
Crucial Coffee

(opens in a new tab)
 – One of the most adorable (and oldest!) places to grab a cup, Crucial Coffee is conveniently located in the heart of St. Augustine's historic district corner of Charlotte and Cuna Streets. The space inside is small, but with outdoor tables it's a great place to relax between all your exploring, do some people watching, and enjoy the view. They are also known for their selection of ice cream and milkshakes!
Coffee House Realty Cafe
– Part coffee shop, part Realtor, part art gallery, and 100% comfort. Everything at this coffee house has been deliberately designed around the experience of enjoying the coffee house….organic coffees, unique beverage choices and freshly baked items. The layout, atmosphere and local art display are visually engaging and colorful, carefully devised to encourage customers to congregate, meet with friends, make new friends, share the offerings and create the energy that gives the Coffee House Realty Cafe its signature buzz. They emphasize green, Eco-friendly materials in daily operations, not as a marketing tool but because this is part of their brand philosophy. Clean lines, warm color palettes, relaxed seating, and carefully chosen decor – everything about the coffee house concept speaks to this community ideal of a classic boutique coffee house. Within the Coffee House Realty Cafe, the environment is attractive to a wide range of customers. Board games and books stock the shelves, soft music fills the coffee house area, the flexible layout allows for impromptu performance events while laughter and conversation fills the coffee house.