Ultimate Guide to St. Augustine Restaurants
When most people think of St. Augustine, they conjure up images of legendary history and beautiful beaches, and rightfully so. But one of the greatest things about the Old City is our incredible emerging culinary scene. In fact, Southern Living Magazine recently named St. Augustine "The South's Best Food Town" – quite an honor considering we were on the bottom of the list just one year before and never mentioned prior. It is a testament to all of the amazing chefs who have flocked here in recent years to take advantage of the vast resources that coastal North Florida has to offer. From fresh-caught seafood, to home-grown produce, to locally raised livestock, dining in downtown St. Augustine is the epitome of farm (and sea) to table. We are proud to share our knowledge of the local food scene with our guests in order to enhance their St. Augustine vacation experience. Here are some of our favorite historic downtown restaurants right now:
Forgotten Tonic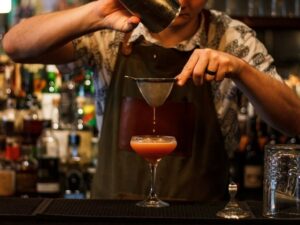 Forgotten Tonic(opens in a new tab) is a hidden neighborhood gem located in the heart of St. Augustine's historic art district on Aviles Street, the oldest street in the country! They feature modern twists on freshly prepared American comfort food, an extensive wine list, hand-crafted cocktails & captivating southern hospitality. Owner John Moore and his team are magicians behind the bar and you will find yourself coming back over and over to explore more of the expansive cocktail program. Don't miss the Fried Green Tomatoes with Citrus Slaw and Blackened Redfish on their dinner menu, prepared perfectly by Chef Mo. In just 2 years Forgotten Tonic has developed such a following that they already purchased and are planning to expand into the neighboring restaurant. Forgotten Tonic is also a featured stop on our wine, cocktail & food experience, for Chef Mo's incredible desserts paired with your choice of craft cocktail.
Catch 27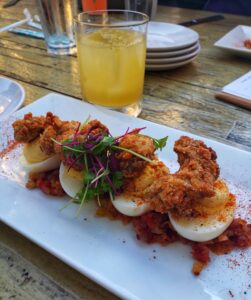 We CAN'T STOP eating here! Within cannon fire distance to the Fort and Bayfront is one of downtown St. Augustine's go-to's for coastal flavor – Catch 27(opens in a new tab). Everything on the menu is cooked from scratch with seasonal ingredients and local produce. Fish, shrimp and clams are caught in Florida waters and delivered fresh every day. And there are plenty of delicious choices for landlubbers too. The menu constantly changes, but some standards are always available. Try the Deviled Eggs with Fried Oysters, Minorcan Seafood Chowder and Rustic Fish for a true taste of the Old City.
Collage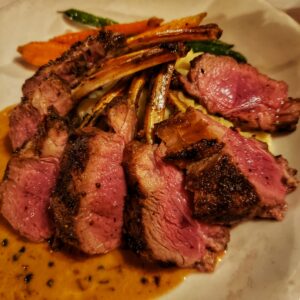 When dining at Collage(opens in a new tab), be prepared for a first-class, award-winning experience. The menu reflects the eclectic tastes of owners Mike Hyatt and Cindy Stangby and focuses on fresh local seafood, steaks, lamb and veal, using international flavor profiles. Located just a block off of St. George Street in the heart of the historic district, dishes are prepared from scratch using the finest and freshest ingredients available. As much as possible they use fish from local waters and produce from nearby farms. While they are not afraid to try something new, most of their dishes are original recipes that have been developed over the years. Our current obsession is the New Zealand Rack of Lamb…..order the whole rack!
Gaufres & Goods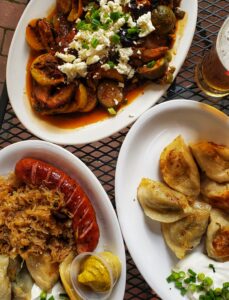 One of our favorites! Gaufre's and Goods(opens in a new tab) is a family owned and operated Polish and Greek cafe featuring traditional European cooking. Located on beautiful Charlotte Street just south of the plaza, this unassuming corner restaurant is the epitome of homemade cuisine. Gaufre's menu features kielbasa, pierogies, gołąbki, soups, mezze platters, spanakopita, pastries, salads, mussels, pyzy, and much more. Gaufre's has a wonderful selection of Polish beers and also serves many hot and cold beverages including espresso, cappucino, latte, mocaciano, American coffee, iced tea, lemonade, orange, cherry and currant juices. The Charlotte Street location is quaint, and vacationers and locals alike will find a departure from the cuisine most St. Augustine restaurants offer. The owners are both welcoming and accommodating, making sure each order is special for every customer.
Preserved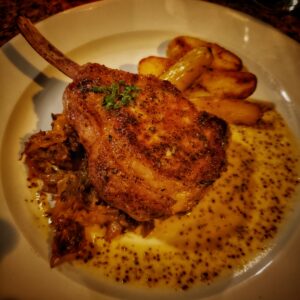 Preserved(opens in a new tab) is a locally owned and operated chef-driven restaurant located in historic Lincolnville. Away from the hustle, but only a short walk from St. Augustine's central plaza, Preserved proudly focuses on highlighting regional ingredients through classic French cooking merged with southern hospitality. Try the Seared Scallops, Cheshire Pork Chop, or Seared Duck Breast while enjoying the incredible selection of fine wines or craft beers that pair perfectly. Dine indoors, on the front porch, or the beautiful dining garden at the corner of Bridge Street and MLK Boulevard, where the restaurant is located in the beautifully preserved Jefferson House. We're still dreaming about the Bouillabaisse we had last time!
The Floridian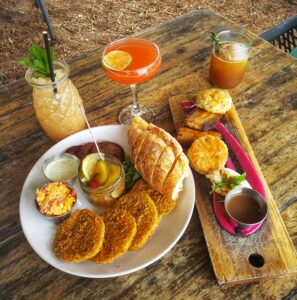 A favorite amongst locals, 
The Floridian

(opens in a new tab)
 is that special restaurant that can cater to all your groups dining needs! They like to call their food "Innovative Southern Fare For Omnivores, Herbivores and Locavores." They aren't kidding! Regionally inspired and straight from the farm, their eclectic southern comfort foods are a true St. Augustine dining experience. Enjoy your fried chicken and pork belly while your friend savors their Tofu 'N Grits or Citrus Beet Salad. Almost any dish can be customized to your dining preference and a large selection of dishes can be prepared gluten free as well. Don't miss the Pickled Pepper Shrimps on the appetizer menu!
Mojo Old City BBQ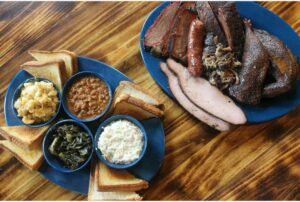 The anytime of day kind of place. We get Mojo's cravings easily 3 times a week. MOJO Old City(opens in a new tab) offers smoked meats, scratchmade sides, and one of Florida's largest curated whiskey collections. Keep your pescatarian friends happy with their daily Fresh Catch, Barbecued Shrimp, or Delta Catfish Platter (we love it blackened!). A super friendly staff and expansive indoor/outdoor dining options makes every visit to Mojo Old City a delight. Their pitmaster Paulie has been part of the team since they first opened in 2003 so you know he's the real deal! We might head over there right now for some Burnt Ends and the Smoked Turkey sandwich!
The Ice Plant
Inside this century-old factory that used to produce – you guessed it – ice, is one of the most talked about restaurants(opens in a new tab) in the state. It shares the historic space with the St. Augustine Distillery (and their FREE tours and tastings), serving hand crafted cocktails made from their fine spirits, along with delicious plates such as their Minorcan Stew and Ricotta Gnocchi. Inspired by the historical period of the early 20th century, they reintroduce their guests to a time where the experience of having a cocktail and a bite to eat was both healthful and enjoyable. They're focused on the art and craft of mixing exceptional local ingredients in precise measurements to create perfect and unique flavor profiles, using items such as fresh house-pressed juices and a wide assortment of bitters and specially developed syrups, which result in stunning cocktails. Attention is paid to the smallest of details with three different kinds of ice, including a nod to the building's original use as an ice plant, with a 300 lb block of ice and custom cubes. We can never get enough of their Blue Crab Beignets!
Boat Drinks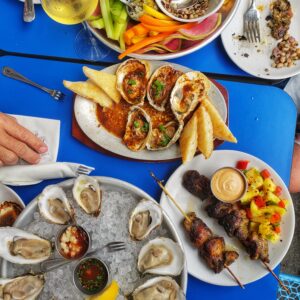 Boat Drinks(opens in a new tab) is the newest addition to historic St. George Street, in St. Augustine, FL. They offer a tropical retreat at their historic two story building in the heart of the historic district. They take the "on a boat" approach to cocktails by pouring fresh juices and house made syrups in all of their cocktails. The cocktails are tropical, balanced and an escape in a glass. Since one can't survive on cocktails alone, the food menu focuses on fresh thoughtfully sourced seafood prepared using recipes developed during their travels throughout the Caribbean, Florida and the Gulf Coast. For seafaring guests, they offer the freshest shellfish and fin-fish, and for landlubbing guests they offer plenty of plant and land based options with recipes developed throughout their travels. Look forward to embarking on a tropical cocktail and culinary journey…come sail away!
Uptown Swinery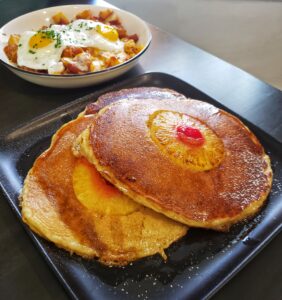 Their farm to table Southern cuisine keeps us coming back over and over! Having incredible brunch options Wed – Sun doesn't hurt either! This uptown restaurant is just a short walk from the City Gates and is worth the trip. We can't get enough of the Cheesy Shrimp 'N Grits, Fried Chicken & Johnny Cakes, and Wild Boar Hash….and we haven't even started on the dinner menu yet! The Veal Osso Bucco is talked about all over town and Uptown Swinery(opens in a new tab) recently won the Best Upscale Dining Award at the 2021 Taste of St. Augustine. Bottomless brunches and sinfully good cocktails make sure you won't go thirsty while tasting around their menu. Whether brunch or dinner, make sure to get their Roasted Buffalo Cauliflower!
The Raintree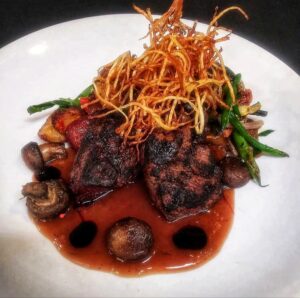 Another uptown and local favorite. You know a restaurant is doing something right when team members have worked there for 20+ years! Since opening in 1981, The Raintree(opens in a new tab) continues to be recognized nationally and internationally as one of Florida's top destination restaurants. The intercontinental menu blends Mediterranean, American and Asian cuisine. From the Canadian Lobster and Argentinian Chorizo in their exquisite Paella to the Chilean Sea Bass finished in a Japanese-style panko crust…to the Beef Wellington which is a favorite dish with the St. Augustine locals! Every time we go we find a new favorite dish, and currently you must go and try the Veal San Marco!
Sunday Gathering Table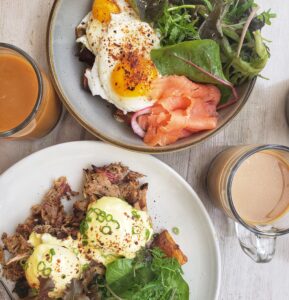 Located in a beautiful home north of the City Gate that is shared with artist Jenna Alexander, Sunday Gathering Table is a truly unique experience. This restaurant is only open for breakfast and lunch so make sure you arrive by 2 pm if you want to try some of their amazing dishes. The menu includes delicious items like shakshuka, root vegetable hash, eggs benedict, smoked salmon toast, and Croque Madame. Coffee is served in a French Press at the table which makes pouring that second glass super easy and convenient. The team is also famous for their sourdough loaves that are prepared daily. Enjoy it with one of your brunch dishes, or take a loaf home with you…if there are any left!
Harry's Seafood Bar & Grille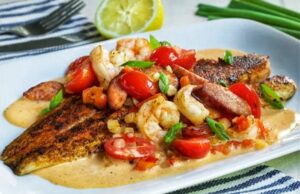 Harry's Seafood Bar & Grille(opens in a new tab), established in 1987, serves the very best of southern, cajun and creole flavors in classic and modern dishes. Live music and one of the friendliest teams in town make the ambiance here second to none! Founded by Louis and Greg Saig, the original store had about 20 stools and a very limited raw bar menu. It was by chance that the first menu items were influenced by a couple fellas from Louisiana. These bold flavors and unique ingredients made a lasting impression on the development of the menu that you still see today. Louis and partner Jesse Jabot along with incredible general managers, managers and staff at every level; strive toward always providing quality food and impeccable service all at a great value. The Louisiana Fondeaux is decadent and the Andouille Crusted Grouper is not to be missed!
Old City House Inn & Restaurant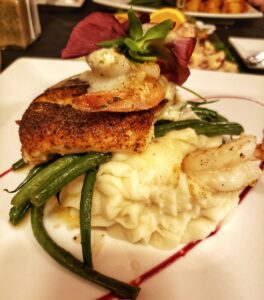 Tucked amongst Henry Flagler's grand, historic hotels is this charming circa 1873 bed & breakfast. Old City House Inn & Restaurant(opens in a new tab) eludes many visitors who assume you must be a guest of the inn to dine there. But we are letting the secret out! Enjoy delicious continental cuisines inside the quaint dining room or outside amongst blooming tropical flowers in the gorgeous courtyard. Their Cioppino (a popular dish amongst locals) is some of the best in St. Augustine, and they feature a full bar. The menu changes seasonally but if you see the Herb Crusted Chilean Sea Bass make sure to order it!
Michael's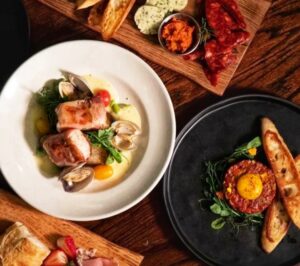 Michael's(opens in a new tab) is located on the scenic Calle Cuna, in the heart of Historic Downtown St. Augustine. The building began as the Buchanti House that dates back to 1764. Michael's menu changes seasonally, created by focusing on Steaks and Coastal Spanish Inspired Cuisine with influence from the finest local ingredients. The restaurant's casually elegant approach brings together friendly hospitality with a dedicated focus on impeccable guest service. Michael's has received numerous honors and accolades, and The Wine Spectator has awarded Michael's wine list it's Award of Excellence for eleven years in a row. Start with the Cast Iron Shrimp and prepare to be wowed by the size of the Smoked Heritage Pork Chop!